Motorola Enterprise Digital Assistant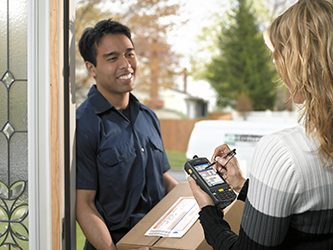 The versatility of Motorola's integrated voice and data mobile computing products, allows you to capture and exchange business-critical information according to your specific enterprise demands.
Single-device simplicity designed for retail, public agencies, logistics and mobile fleets results in handheld technology that extends organizational knowledge into the field, instantly and accurately. `
Motorola

ET1 Rugged Tablet -Motorola's ET 1 Enterprise Tablet stands out in the marketplace, with ingredients that make it truly enterprise ready. Its Android operating system is fortified with features that deliver enterprise-class security, flexibility and manageability. And you get the same sleek design and ease of use common in consumer tablets, with the durability required for all-day business use. The ET 1 — a new class of tablet that's pure business from the inside out.More..

MC55A - Give the managers and task workers everything they need to take instant action anywhere. Pure business on the inside and smart styling on the outside, the MC55A0 rugged enterprise mobile computer lets your workers access business applications, scan bar codes, snap a photo, view a video and place a private or push-to-talk call to virtually anyone in your facility – all with a single device. The sleek lightweight design is not only pocketable, it is at home in front of customers and patients. And government grade FIPS 140-2 security keeps your most sensitive data safe and secure. More...

MC70 -Put the power of a cell phone, PDA, computer, scanner and imager in the hands of your mobile workers with the first rugged enterprise digital assistant. Designed to withstand all-day everyday use in nearly any environment, this rugged compact device delivers true anywhere anytime wireless WAN/LAN/PAN voice and data communications, including superior voice functionality, data capture and the power to run nearly any application. More..

MC75 - No matter what your workers need to get the job done, Motorola's MC75 Worldwide Enterprise Digital Assistant delivers by combining an unparalleled number of business capabilities into an easy-to-carry rugged device. 3.5G GSM HSDPA and CDMA-EVDO Rev A support provides high performance voice and data services around the globe. Your workers will enjoy having all the features they need right at their fingertips in one device designed to endure all day everyday use outside the enterprise -- including push-to-talk, integrated GPS with superior sensitivity and tracking capabilities, 1D or 2D bar code scanning, a high resolution 2 megapixel autofocus digital color camera, 802.11a/b/g wireless LAN (WLAN), Bluetooth and IrDA connectivity. More...

MC75A - The 3.5G MC75A, one of the world's premium EDAs, offers more features and functionality, in a field-proven rugged form factor, than any other device in its class. The turbocharged MC75A addresses business critical mobility needs by maximizing processing power, rugged design, application flexibility, data capture capabilities, connectivity options, security and manageability — all in one device. Two options — 3.5G WWAN/WLAN and WLAN only — enable enterprises to standardize on a single EDA to support workers inside and outside the four walls. Add a field-proven ergonomic design that is easy-to-carry and easy to use, and you have maximum value in a minimum footprint — all at the right price. More...